Commission a Custom Watercolor Painting
Commission a custom watercolor landscape or painting of your home! A truly special and unique gift for any occasion. Contact me to get started!
The Commission Process
I can work from your photos, or one of my existing paintings. I will be in contact with you every step of the way, sending images of the pencil sketch and final painting for approval.
I can begin work with a 50% deposit. The entire process can take as little as two weeks for a small, simple painting, or several months for a larger painting with adjustments made along the way based on your feedback.
Artwork Sizes & Pricing
Some common sizes are listed here, but I can work larger or smaller to meet your needs.

8x10" image - $275 (fits standard 11x14" frame)
11x14" image - $400 (fits standard 16x20" frame)
16x20" image - $900 (fits standard 24x30" frame)
22x30" image - $1700 (custom framing recommended)
Framing options are available, or I can ship the painting to you unframed. Framing and shipping costs are not included in the prices listed above.
Materials
Your painting will be completed using the highest quality professional-grade materials, including Arches watercolor paper and Winsor & Newton lightfast watercolor paints. These archival materials ensure that your painting, properly cared for, will last a lifetime.
Contact me to get started!
Sample Commissions

22x30" Hanalei mountains
Based on a smaller existing painting



10x14" Mountain Cabin
Painted on location en plein air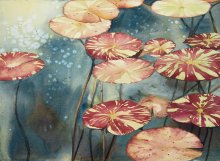 22x30" Water lily pads
Based on a smaller existing painting



5x7" Kauai landscape for wedding invitations
Based on reference photos



8x10" Poipu home
Based on reference photos



11x14" Kilauea home
Based on reference photos