Geometry of Shells #100

Purchase Geometry of Shells Art Prints
5x7 matted to 8x10" Art print
8x10 matted to 11x14" Art print
Set of 8 Greeting Cards + Envelopes
Single Greeting Card
$4.00
Hawaii watercolor painting by Kauai Artist Emily Miller
2007
Artwork Dimensions (unframed): 17" x 21", framed in koa veneer to 22" x 28"
Original painting on display at
Aloha-n-Paradise Gallery
, Waimea
Inquire to purchase »
The geometric spiral structure of a pink seashell with part of its shiny interior revealed. I have loved collecting and studying shells all my life, growing up on the coasts of Kauai, California and Maine.

A friend brought this shell to me and I just had to paint it. Seeing into the spiral structure of the shell's core got me thinking about the Fibonacci sequence and the golden spiral - a numeric ratio commonly found in nature and expressed visually as an expanding spiral - the mathematics of beauty.
View more: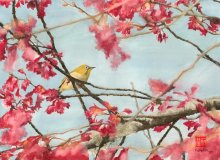 Flora & Fauna